Our complimentary bespoke design process
As your engagement ring concierge, our experts are at your service every step of the way. We are pleased to provide you with the best education, quality and design, resulting in the perfect ring for you.
5 steps to your one of a kind ring
1
Share your design ideas with a design consultant (15 minutes)
---
Tell us your ideas for the perfect engagement ring and we'll collaborate to get it just right. Our custom ring questionnaire is a great way to get started or you may call or email us to be put in touch with a consultant who will guide you through the process.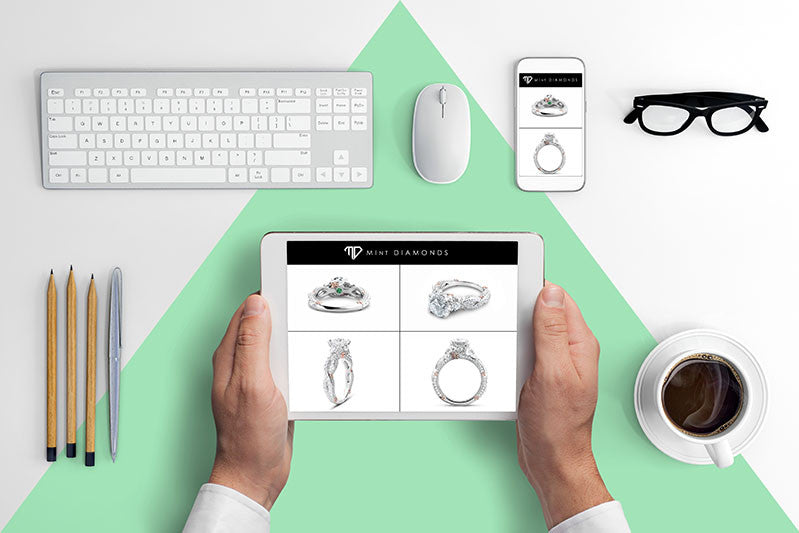 3
Select your center diamond or gemstone (within 7 days of design approval)
---
Our experts remove all doubt by choosing your ideal center stone from a selection of over 100,000 graded diamonds and colored gemstones. Allowing us to find your perfect stone will save you the time and hassle of navigating a vast world unfamiliar to you, as well as ensure the quality of diamond you are "actually" receiving. We will present as many options as you need before making your choice, then use the precise measurements to complete a draft design.
5
Receive your ring (3 - 4 weeks)
---
Sit back and relax while our master craftsmen cast, set and polish your one-of-a-kind engagement ring right here in the United States. We'll keep you updated with email notifications as creation progresses and let you know when your ring is ready for shipment or pickup.